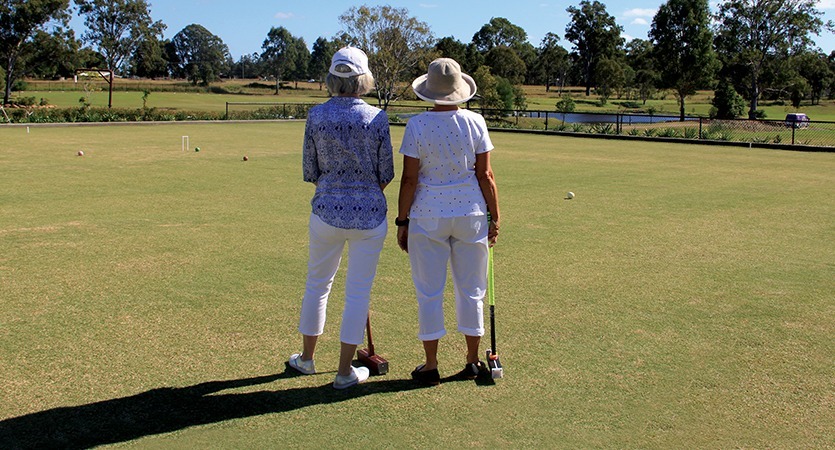 Members of the Southport Croquet Club made their way to Opal by Living Gems Lifestyle resort in Logan Village on 17 July 2018.
Beryl Turner, Southport club captain, along with a group of eight members enjoyed a great day at the Resort, having a go for the first time at the Resort's croquet court.
Living Gems has been sponsoring the club, located at 1 Queen Street, Southport for the last 12 months.
Mary Kerr and Diane Miller, Home Owners at Opal by Living Gems, are both club members at Southport. Mary said she didn't start playing croquet until she moved into the resort but has always thought it was a game she would play in her retirement.
"Whilst Opal by Living Gems' croquet field was under construction last year, home owners were invited to use the club's facilities at Southport."
"I've been playing croquet for two years, it is a fun sport. I am the president of the club and help organise two set games a week, on Sunday and Tuesday afternoon, as well as a number of other competitions throughout the year."
"We have had a few tournaments including one with the neighbouring resort, Ruby by Living Gems. It was a great event, we will probably organise another soon."
"A lot of the Home Owners here enjoy the game. We usually play a variation of croquet called "golf croquet" – it is the most popular and easiest of the four types of the game."
Southport Croquet Club President, John Turner said the visit to Opal by Living Gems was a fun day.
"The group enjoyed a BBQ lunch, cakes of all kinds and more importantly got to play a game or two on the court within the resort."
"I'd like to thank Opal by Living Gems for allowing us to make the visit and enjoy some time on their court and meet with the home owners."
Opal by Living Gems is open seven days from 10am to 4pm. To book a personal resort and display home tour call Dennis on (07) 5547 2333 or pop in any day to 42 Quinzeh Creek Road, Logan Village.