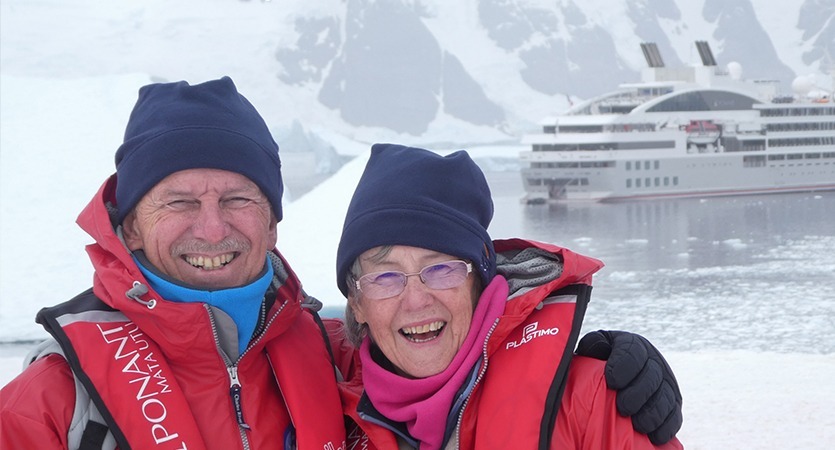 Originally from the United Kingdom, Keith Revell made the move over 40 years ago to Brisbane where he met his wife Gwen.
Not long after our two wonderful children were born we moved to New Guinea for three years, from there we chose to settle in Redcliffe until our children went on to university. After a stint in Melbourne and over 30 years in a stressful Corporate role we eventually moved to Heritage Park seeking a quieter, less stressful life and bought a newsagency.
The business thrived, and we quickly learnt that this was not going to be a quiet life! We sold the newsagency after six years and took a gap year, which has 10 years and counting, we are still contemplating when we will retire!
Having made the decision to downsize we continued our search for a quiet life and stumbled upon Opal by Living Gems whilst researching Over 50s Lifestyle Resorts. We actually placed a deposit on a site at Ruby by Living Gems first, but we both agreed that Opal by Living Gems was where our hearts were most happy.
We have been living here for three years now and it suits us perfectly. Our house is located on the boundary of the Resort which is lovely for our little Maltese who loves to rub noses with the horses through the fences of the bordering property.
Gwen and I love the lifestyle here, we regularly take our dog for an early morning walk through the lovely parkland that adjoins the resort. You get to see the mist over the lake if you're awake early enough. There is so much wildlife around and you get to listen to the birds sing – it's bliss, and not a car can be heard!
We like to pop down to the local Woolworths shopping centre which is only a five-minute walk. The centre has almost everything, it's just missing a coffee shop!
Gwen and I love to join in the Thursday tennis night at the Resort, Gwen plays, and I cheer her on from the sidelines with our dog. Later in the evening we all put together a BBQ and sit around the fire pit and soak up the ambiance.
A great bonus about living here is that you'll find almost everything you need in one place! I run a monthly computer class, and am on the Home Owners Committee, while Gwen will enjoy a game of mah-jong or indoor bowls. You can do things together or separately. There are so many activities going on – it is like being on a cruise, from Hawaiian Night to live concerts!
Now that we have found our slice of serenity we are beginning to get back into volunteering. I am involved with a number of not-for-profits in the legal industry and Gwen and I have just recently volunteered at the Commonwealth Games which was a wonderful experience.
For more information about Opal by Living Gems please call 1800 370 702 or email dennis@livinggems.com.au